Submitted by

frank

on 3 March, 2020 - 11:50
English
Form follows you.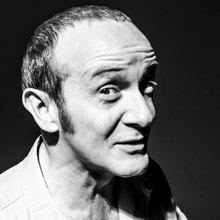 Frank Benno Junghanns | Foto: Markus Rock
 
The more demanding your project is, the more I look forward to it.
The smaller the budget, the better you have to cooperate.
 
What we can do for you
I offer the complete spectrum in the field of graphic design or visual communication (for examples of work see Graphic Design, as well as Logo & Corporate Design and Web Design) – from the conception together with the customer to the design and processing/supervision to production and "turnkey" delivery.  Specialities of my office can be found under Layout & Produktion and Art Services.
Small associations/projects, regular customers, resellers (agencies) and young artists may ask for special conditions.
 
We're on to every dodge
My many years of experience and cooperation with proven partners (photographers, copywriters, programmers, printing houses and other suppliers) enable me to realize high-quality design tasks ranging from corporate design & websites, flyers, catalogues & publications of all kinds to trade fair & exhibition design and advanced communication such as guidance systems & packaging design.
 
Partner
Brief vita of Frank Benno Junghanns
1964 born in Karlsruhe | 1985–86 apprenticeship as lithographer | 1989 move to Berlin | 1990 foundation of the design office "Callas" (until 1992; today "Callas Software") | 1993 foundation of "raumfisch.de/sign" | 1997–2010 head of the Kunstfaktor Produzentengalerie Berlin (more information see Art Services).
 
Credo
Less is more. Form follows function you. We are suspicious of fashion trends and fixed rules.
Good typography/readability and logical structure/user guidance are usually an essential part of the design.
 
Our clients
are mainly foundations, publishers, artists/galleries/museums and universities. But also many small and large companies, private individuals, scientists, the state of Berlin and various agencies. A small selection:
De Gruyter Verlag Boston/Berlin | Small Arms Survey, Geneva | Scholz & Friends Berlin (ad agency; e.g. VW-Gedas and Europe Online) | City of Berlin (Senate for Building and Housing) | Université de Lyon, France | Monash University, Australia | Centre national de la recherche scientifique, Paris | Boston University, USA | University of Massachusetts, USA | University of Osnabrück | AOK Berlin (Institute for Health Promotion) | Weserburg Bremen (museum) | Lilienthal Centrum Stölln (Museum) | Cultural Heritage Foundation Mecklenburg-Vorpommern | Fläming Building Material Laboratory Ltd. | LIFTKET Hoffmann Ltd., Wurzen | PMS System (Diecasting moulds, Italy) | Gruppe 96 (ad agency; e.g. Kaiser's, Karstadt and Tengelmann supermarkets) | Interface (ad agency; especially Renault) | Akademie der Künste Berlin (art association) | Motor Music (Universal Music Ltd.) | Museum of European Cultures – National Museums in Berlin | German Cultural Center Hermannstadt | 103 – Agency for art, culture and entertainment| konzeption + gestaltung (design office, Berlin) | Sreda Film (film production) | Bewegungsbad Marienfelde (physical exercise baths) | Habitat Forum Berlin | bewegungsmelder.de (now citykit.de) | ter Hell (painter) | Dana Widawski (artist) | David D. Lauer (sculptor) | Christina Kubisch (sound art) | Caro Suerkemper (artist) | Max Grundig Hospital (Bühl) | RaumFabrik Durlach GmbH (Karlsruhe) | Da Vinci Design (ad agency) | Index (ad agency) | Weidle Publishers Bonn | Gärtnerei Hofgrün Berlin (gardening) | Künstlerbund Schwabach (alliance of artists) | Liederproduktion Altona / Wolf Biermann (musician) | Das Sachverständigenteam (car inspection centre) | European Academy of Fine Arts Trier | Gallery of the city of Sindelfingen | Deutsche Schallplatten Ltd. (record label) | Gallery Gilla Lörcher Berlin | Film- und Medientage Havelland (film festival) | landmade. (artist project) | Kunstfaktor Produzentengalerie Berlin | Dorint Hotel Schweizerhof (today Pullmann) | Mediator Ltd. Berlin | Die Weinblume (specialist wine shop, Karlsruhe) | Aporia – Society for Child and Youth Services Ltd. | Kohler Verlag Karlsruhe (publishing house) | University of Vechta (ZAG) | .radix (Interior & Design, Berlin) | Mitte Bar Berlin | Transformator Plus (art management) | Freies Museum Berlin | Howahl Restoration Berlin | u.v.m.